A new perspective of beauty
Cenoté wellness & medical spa
Cenoté is the leading Wellness & Medical Spa located in the heart of the Niagara Region. We offer the perfect setting to achieve natural-looking and healthy skin, right here on the beautiful and tranquil waterway along the canal in the city of Welland, Ontario.
Health and beauty originate from within the body – and everyone is unique. We will customize a plan to suit your specific needs. The Cenoté team works with a variety of techniques and modalities to refresh your appearance and turn back time. We take great pride in seeing clients leave renewed and radiant.
The first step on your journey to optimal wellness is a personalized consultation. The Cenoté specialists will use the state-of-the-art diagnostic center to address all your concerns and answer any questions you may have. You will receive a personal goal-oriented treatment program to assist in achieving a vibrant, healthy body and peace of mind.
'Cenotés' have been used for centuries to decrease inflammation and to soothe, restore and nourish the skin. Within these beautiful natural springs you will find them full of glistening crystals long-associated with healing. Like the namesake, we will centre on promoting your total body wellness.
Take a deep breath, step inside our modern interpretation we have created of a Cenoté and allow us to Refresh, Restore and Rejuvenate you!"
receive your free $25 gift card!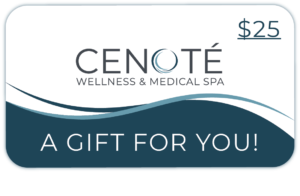 Cenoté Skin / 90  intake approach to FEED, BOOST, TARGET AND FINISH will be determined with you and your medical aesthetic team member for optimal results in 90 days.  We will coach you through weekly, bi-weekly or monthly treatments to transform your skin!
You will be coached on how to FEED your skin with our skincare products.  Advised on in-clinic treatments to BOOST your skin's outcome.
Specifically TARGET any concerns you may have with our professional serums.
And FINISH with assistance from our RN or Medical Director with an appropriate approach for the look you desire.
Cenoté Body / 90 Intake approach to be determined with you and your medical aesthetic team member for optimal results in 90 days.
You will be advised on in-clinic treatments to BOOST and TARGET your body concerns as well as how to maintain your outcome for lasting results!
see what all of the Clients are saying!
see what all of the clients are saying!