A new perspective of beauty
WHAT IS THE CYNOSURE ICON™?
The Cynosure Icon™ is the next generation of laser and light-based platform technology. Offering multiple applications in one system, the Cynosure Icon™ is capable of effectively providing a comprehensive suite of the most popular aesthetic treatments. Developed and designed with the knowledge and expertise acquired over years of experience in the aesthetic market, the Cynosure Icon™ benefits from a combination of proven technology and a robust design, ensuring maximum uptime and effective results. The Cynosure Icon™ incorporates laser and Optimised Pulsed Light into one platform which delivers a comprehensive suite of treatments. With the Icon™, the specialists at Cenoté will be able to provide a wide range of clinical and aesthetic treatment indications to suit your concerns and needs.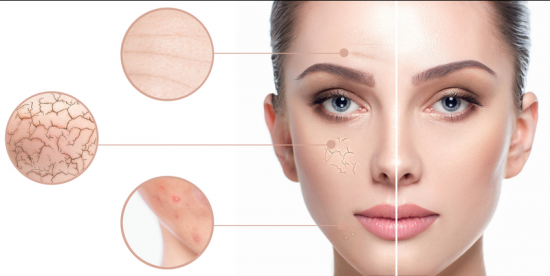 ThreeForMe™ is a cutting-edge new laser treatment that can be used to address a wide range of aesthetic imperfections with a single treatment method. This technique was created by Cynosure®. Only the ThreeForMe™treatment can address three common skin concerns wrinkles, sun damage and facial veins within one procedure.

The ThreeForMe™ treatment is exclusively performed using Cynosure's Icon™ technology providing optimal results on all three skin conditions with minimal social downtime.

The procedure is performed in two steps, or what your specialist may refer to as "passes".The first pass will use an Intense Pulsed Light (IPL) technology to treat discoloration for a more even-looking appearance. This includes sun-damage such as freckles, brown spots, or age spots. This pass also addresses unwanted facial veins including broken blood vessels, spider veins and rosacea.

The second pass will use a "microbeam" laser technology that will gently renew the skin for a smoother-looking appearance. This unique technology works by stimulating new collagen and elastin production – the keys to the support structure of our skin. Improved skin structure results in the reduction of fine lines, wrinkles, scars and other surface imperfections.
Your Cenoté laser specialist will  provide professional and custom laser hair removal options to suit all your needs. We offer the most versatile cutting edge diode laser on the market: the GME Diode Laser. 
The diode laser has one of the largest spot sizes, making treatments fast and efficient. The GME Diode's sapphire crystal has an intuitive cooling system to ensure that you have a comfortable, virtually pain-free, laser hair removal experience. 
As the human skin has millions of hair follicles in various phases of growth, laser hair removal is performed over a series of treatments. The laser is only able to destroy the hair follicles that are in their active phase of growth. Therefore, treatments are generally spaced over 4-8 week intervals.
As everyone's skin tone, hair texture, and growth patterns differ, we recommend a consultation with one of the Cenoté specialists who can develop a custom treatment plan tailored to your specific needs. The skilled team ensures that the methods of hair removal meet the highest quality and safety standards.